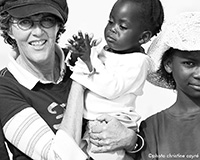 Christine Cayré vit entre Miami et le Sud de la France. Après des études à l'école des Beaux-Arts, elle crée plusieurs spectacles audiovisuels «Les Miroirs Sonores» qui allient danse et performances audiovisuelles. La rencontre avec des gens de la mode lors de soirées évènementielles dont elle assure la direction artistique, l'emmène vers la photographie de mode. Depuis plusieurs années, elle parcourt le monde pour réaliser des scènes de vie.
Christine Cayré grew up in the South of France where she still lives as well as Miami. She studied at Ecole des Beaux Arts and quickly started « Les Miroirs Sonores », a serie of live shows that combined dance with audiovisual performance. Later she supervised evening events as art director where she came across people from the fashion industry that took her into fashion photography. She travels around the world to produce lifestyle fashion imagery.
«J'ai rencontré et collaboré avec des personnes de talent, passionnées par les métiers de l'image. Jeunes créatifs, gens d'expérience, de véritables échanges professionnels mais aussi humains se sont créés. De là, l'idée est née de développer un réseau dans le but de mener à bien les campagnes d'image que l'on nous demande (shootings, tournages) mais aussi de donner aux jeunes créatifs avec lesquels je travaille la possibilité de se dépasser pour allier création et performance.»
For many years, I have been working as a fashion photographer travelling around the world as part of my profession. I have met and collaborated with many talented people all sharing the same passion as myself within the image industry. Young creatives, experienced professionals, some relationships and professional exchanges emerged. The inspired me with the idea to create and develop a global network that aims to producing fashion campaigns for our customers, offering the young creative audience I am collaborating with the opportunity to stretch their skills and combine creativity with performance.
Springfield, Aigle, Chevignon, Femme (magazine), Communication & Business, Somewhere, Groupe Redcats, Erdf «Dolce Vita», Tommy Hilfiger, Comtesse du Barry